Trio Tangata is a brand-new Tango ensemble, composed of three fine musicians, who are, for many years already, specialists in the Argentine Tango. In a totally innovating and unique style they compose arrangements of the tango music by A.Piazzolla, H. Salgan, M. Mores, C.Gardel etc. Furthermore they perform their own special compositions written by the pianist MMarkerink. Her music shows us the Argentine tango is still in full development.
The 3 musicians are members of the well-known ensemble "Tango Dorado" , with concerts in Holland and abroad.
With sense for drama, precision and master-skills Trio Tangata presents the Argentine tango in a performance full of energy.
In the summer of 2006, the group, who had been invited by the Italian 'Accademia Libera, went on tour in Toscana [and gave many open air concerts.]
Very recently the pianist Margreet Markerink got the first price in the national composing competition for new tango dance-music. The presentation of de "choclo-award" will take place at June the 14th of 2008 in Utrecht.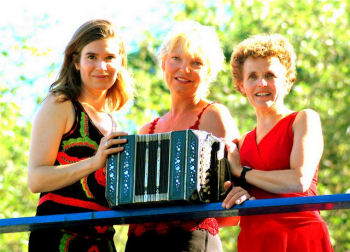 ©Trio Tangata